Faulkner Gathering Information
Announcements:
Date for this coming year is set as Saturday, August 19th, 2017

Mark your calendars!
The Faulkner Gathering is now to be held the 3rd Saturday of August.
Greets start around noon. Eats at 1 pm.
August 19, 2017 Acton, MA
August 18, 2018 Stoddard, NH???
August 17, 2019
Hope to see you there!
Food is Pot-Luck:
Meats will be roasting on the fire typically including pork from Sugar Mountain Farm, roast beast, lox and turkey.
Soda and water are provided – BYOB if you want something stronger.
Bring salads, appetizers, breads, side dishes, deserts, etc.
Things to bring:
Kids games & amusements.
Lawn chairs & tray tables if you like.
Stories and pictures about Family History.
There will be photo display space and possibly recording for stories.
Directions:
#5 High Street, Acton Mass just off of Main Street.
Google Map Link

View Larger Map
Contacts:
Primary Reunion Organizing Contacts:
Heather Whitney hy2929@verizon.net
Stephen Jeffries jeffriessb@cs.com
Webmaster:
Walter Jeffries walterj@sugarmtnfarm.com
Past Photos:
2013 Faulkner Reunion Group Photo
Click image for larger version.
(
Email
me yours if you would like to have them here or send me a link to your page of photos – see below.)
2003 Faulkner Reunion Photos by Walter Jeffries.
Feedback:
Do you have ideas for what might improve these pages? Email us to let us know what you would like to see on this web site! What would you find useful? A family directory? Other thoughts?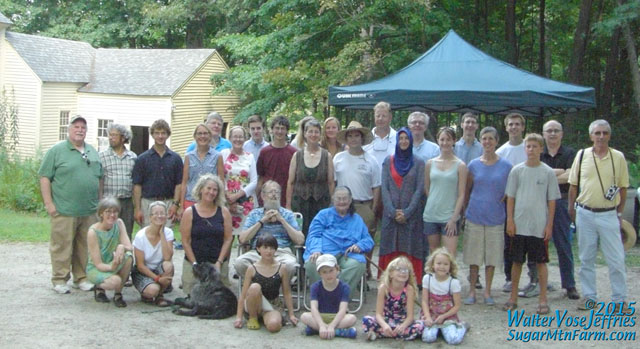 Faulkner Clan 2015
Click for Big Picture
2004 Reunion Panaramic photo composite
Web Site by Walter Jeffries of Sugar Mountain Farm in Vermont Copyleft 2005 to eternity and beyond…